Digital Books

Access eMagazines, Comics, and ArtistWorks - musical instrument video courses.
View RBdigital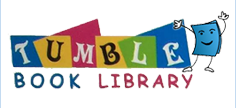 K-6 geared animated talking picture books, read-along books, chapter books, videos, non-fiction books, graphic novels and books in Spanish/French.
View TumbleBooks
Research & Homework
12 Social Studies databases including American Government, American History, The African American Experience, Pop Culture, World History, and Geography. Tailored toward K-12 audiences.
View Resource
Homework help for students with access to live, on-line tutors and a writing lab from 2:00 - 11:00pm at no cost to users.
View Resource
Over 1,000 how-to arts and crafts video classes taught by award-winning artists and designers.
View Resource
CultureGrams Online Database links users to all CultureGrams editions, including World, Kids, Provinces, and States, in an engaging interface that can be accessed anywhere, anytime.
View Resource
LearningExpress provides a comprehensive selection of educational resources—including interactive tutorials, practice exams, flashcards, articles and e-books—for basic skills mastery, academic success, job preparation, and career advancement.
View Resource
An online language learning tool that offers courses in Spanish, Polish, English, Mandarin, and more.
View Resource
Information about the history, geography, and culture of Arkansas. Includes media galleries and a This Day in Arkansas spotlight.
View Resource
World Book Kids is the premier online resource developed especially for young students.
View Resource
Tailored for students in elementary and middle schools, World Book Student includes all the articles from the print versions of the World Book Encyclopedia, plus thousands of additional articles, learning resources, and research tools.
View Resource